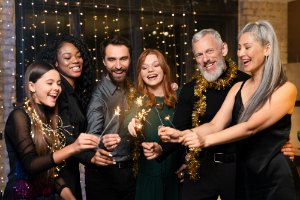 With a brand-new year comes a heightened sense of ambition for millions of people. Goals are set, plans are made and come January 1st the race for personal improvement begins. According to Statista, year after year, the top 4 New Year's Resolution consist of the following: exercise more, lose weight, save more money and improve diet. Businesses that are staged to provided the workplace wellness support necessary to help employees accomplish these resolutions harness a golden opportunity. Successful individual self-improvement helps foster improved workplace morale, increased employee retention and improved productivity.
Not sure where to start? Don't know if your employee wellness program is ready to support? Here is a breakdown of each resolution and how any business can implement support strategies to help their employees succeed.
NY Resolution #1 – Exercise More
Benefits: Employees who consistently exercise have a reduced risk of injury, lower incidence of costly chronic diseases such as Type II Diabetes, high blood pressure and high cholesterol. Exercise (or any kind of movement) is proven to elevate mood, improve sleep and increase energy.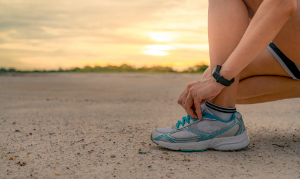 Solutions: Start by normalizing movement in the office. Kick off your next meeting with a 5-minute energizing yoga routine, organize a lunchtime walking group, set up a stretch zone in a small area of the office and outfit it with massage guns, foam rollers and yoga mats. Contact your local fitness centers and ask about corporate discounts that your team may be able to take advantage of. Does your industry require high levels of physical activity? Get intentional about by establishing a daily fitness break that focuses on injury prevention exercises.
NY Resolution #2 – Lose Weight
Benefits: Healthy weight management is linked to decreased psychological distress, improved confidence and a decreased risk of chronic illness. What this means for businesses is an employee's improved ability to focus on work, bolstered morale and decreased incidence of absenteeism.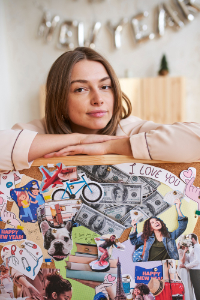 Solutions: Weight loss is a tricky subject in the workplace. Despite the tendency of individuals to focus on weight loss, we recommend businesses focus on the concept of healthy weight management or general wellness. This can be accomplished by providing nutrition education and promoting movement (see NY Resolutions #1). Quality nutrition education can be difficult to decipher as this is an arena clogged with varying levels of expertise. We recommend seeking advice from a Registered Dietitian who focuses on body positivity and intuitive eating principles. Often hospitals will have outreach programs for nutrition that may be of service, for more ideas check out our article on Nutrition Advocacy in Your Workforce.
NY Resolution #3 – Save Money
Benefits: Finances are recognized as a top stressor for adults. Providing your team with the educational resources needed to better manage their finances not only shows attention to their well-being, but can establish money management skills that alleviate a lifetime of stress.
Solutions: Begin with promoting existing financial benefits that may be underutilized or misunderstood within your workforce. This includes retirement plans, health savings accounts and flex savings accounts. Service vendors for these offerings will provide year-round educational seminars designed to empower employees to invest wisely. Offer ongoing access to these types of financial well-being resources. There are many organizations who can provide experts on the topic of financial well-being, but if you're struggling to find one in your area, consider looking online for webinars provided by experts.
NY Resolution #4 – Improve my Diet
Benefits: A balanced diet is an excellent line of defense for the immune system, can prevent chronic disease and support healthy weight management. Proper nourishment also improves physical and mental performance as our brains and bodies thrive on a balanced diet.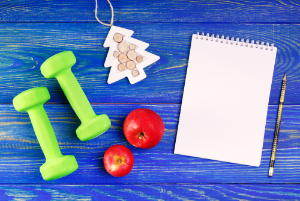 Solutions: Studies show that the majority of adults struggle with proper nutrition due to a lack of information or confusion caused by the overload of conflicting information. A recent study revealed that 56% of people surveyed felt uncertain about their food choices. Additionally, 96% of people surveyed said they focused on eating for various health benefits. However, only 55% could identify foods and nutrients that actually aligned with their specific health goals. Resources such as www.nutrition.gov provide reliable, straightforward nutrition information that can be shared with your team. For more customized support and help with strategic nutrition advocacy within your workforce, it is recommended that the advice of a Registered Dietitian is sought.
Taking Action
In summary, supporting these key self-improvement goals of your workforce is just good business. There is never a bad time of year to enact workplace wellness strategies that help reduce burnout, prevent injury and chronic disease, boost productivity and mitigate absenteeism. The free resources listed in this article give employees excellent starting points for information and next steps. Looking for a partner in designing and implementing an engaging, high impact workplace wellness program? Contact info@sitewellsolutions.com or visit www.sitewellsolutions.com for more information about our services.
About SiteWell Solutions
SiteWell Solutions is committed to supporting business and organizations with health, wellness and injury prevention services. A healthy workforce is proven to be more engaged, productive and happier. It is our mission to deliver these outcomes to every organization we serve. Our services include onsite and virtual corporate wellness programs, industrial athlete training, injury prevention services, chronic disease management, employee resilience support services and much more. Contact info@sitewellsolutions.com today to find out how we can optimize your organization.