In surveys conducted by the New York Times, the World Health Organization and FoodInsight.org 78% of people admitted that they encounter conflicting information about nutrition. This resulted in 56% of people surveyed saying they felt uncertain about their food choices. Additionally, 96% of people surveyed said they focused on eating for various health benefits. However, only 55% could identify foods and nutrients that actually aligned with their specific health goals.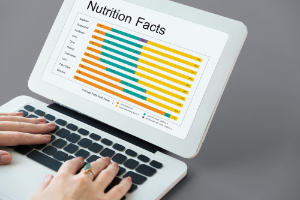 Why is a topic that is essential to our longevity, performance and overall happiness so mystifying? Think information overload! An abundance of information (and misinformation) flows into our awareness through social media, advertising and long-standing cultural beliefs. This overload basically causes our decision-making abilities to short circuit. The fact that nutrition is not a one-size-fits-all concept further complicates the matter. Our dietary needs will vary as we age, with our activity levels and may change completely due to certain medical conditions. This is why the support of a Registered Dietitian is critical for developing sustainable healthy habits.
First, let's discuss the objective of Registered Dietitians. Registered Dietitians excel in providing comprehensive, actionable nutrition council. Their authority in the wellness field is attributed to a mandatory 4 – 6 years of science-based nutrition education that must be completed at an institution recognized by the Accreditation Council for Education in Nutrition and Dietetics. This schooling is blended with coursework in communication, psychology and behavioral change. When seeking nutrition related support for your workforce – it is recommended that businesses confer with Registered Dietitians (RD) rather than individuals with titles such as: nutritionist, gut coach, food expert. With this background, let's explore the 5 key benefits of providing your workforce access to RD support.
Help Your Employees Demystify Nutrition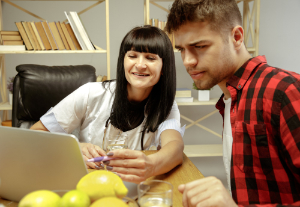 As the previously mentioned survey discussed, nutrition is confusing to most people. Even individuals with health-oriented, good intentions may be missing the mark when it comes to properly nourishing themselves in a way that supports their goals. A working professional with above average intelligence can often carry severe deficits in nutrition literacy.
Providing clarity and direction on a topic that is so central to our daily lives is a tremendous value to value to individuals. By removing confusion, you also remove personal stress that tied directly or indirectly to personal nutrition. As any successful business can attest, there is value in solving people's problems for them. Your organization can do this by providing answers to the questions: What should I be eating? What should I be feeding my kids? How can I eat to achieve my personal wellness goals? How should my diet change to improve my lab results?
Optimize Performance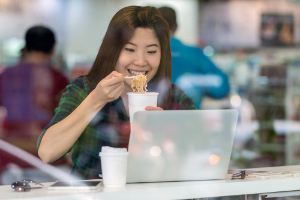 Nutrition holds a profound impact on employee performance. From proper nutrients for brain function, to optimizing energy levels for the demands of overtime and highly physical work, to just avoiding the 3 o'clock daily crash. Properly nourished workforces have the ability to innovate, elevate and thrive. This is why organizations such as Google, Pinterest, Dropbox and Etsy have invested in awe-inspiring onsite cafeterias that featuring healthy menus. In 2014 Business Insider estimated that Google spent approximately $80 million per year on food costs.
As explained in Harvard Business Review's article, What You Eat Affects Your Productivity, food is directly linked to our cognitive performance. Hence why it is critical for knowledge-based industries to focus on nourishment that enables their team members to operate at full capacity. As a pioneer in workplace dining, Google simply saw the early opportunity for a positive return on investment. In the same year it was estimated Google spent $20 per employee, each day on food - those same employees earned Google $66 billion in revenue. This number was quickly surpassed in 2015 and continues to grow.
Circling back to the case for Registered Dietitians. While an onsite, brain-food filled café may not be in immediate future for your organization, there is still no reason that you cannot provide your employees the nutrition resources they need to thrive. RD services are an even more cost-effective option for many industries and the right RD will be able to provide actionable guidance that can make a marked difference in individual performance.
Reduced Incidence of Chronic Disease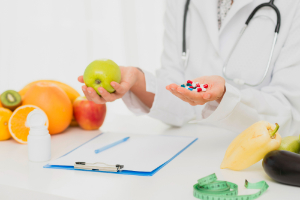 The occurrence of hyperlipidemia (high cholesterol), hypertension (high blood pressure), type 2 diabetes, obesity and certain types of cancer are all directly linked to poor nutrition. According to the Centers for Disease Control and Prevention, the annual cost of preventable chronic diseases such as these to employers is $36.4 billion a year. This expense is derived from absenteeism, elevated insurance premiums, lost productivity attributed to underperformance, employee turnover due to medical causes and lack of work-life balance.
Team members living with chronic diseases or who are at risk of developing chronic disease stand to reap the most benefits from the support of an RD. The reason for this begins with closing gaps in health literacy and supporting behavior modification. Improving health literacy and supporting behavior change resolve the true underlying causations of chronic illnesses and reduce the risk of comorbidities (more than one chronic disease) as the individual ages. The benefits of RD intervention and support are also largely financial. The cost of chronic disease is a tremendous burden to the employees affected. These ailments cause financial hardship in the form of out-of-pocket healthcare costs, indirect expenses incurred due to poor health and lost wages. The Journal of Occupational and Environmental Medicine estimated that $4.95 billion is lost in income annually due to chronic disease among U.S. based workers.
The expense of chronic disease is perhaps one of the strongest cases for proactive employee wellness programming. Registered Dietitians can intervene and educate through webinars, lectures or one-on-one services. By providing essential information on proper eating habits, debunking myths and supporting behavior change RDs are able to reduce the risk of type 2 diabetes, hypertension, hyperlipidemia, obesity and other chronic illnesses.
Mental Health is Key
If your organization isn't actively providing high-visibility resources to support the mental health of your employees – you are way behind the curve. Mental health is steadily becoming the foundation of employee wellness programming and is a long-standing priority in the eyes of employees. In a 2020 survey conducted by Aetna International, 84% of employees said their mental health is more important to them now than it was a year ago.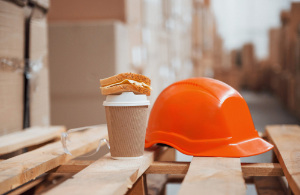 Science supports the strong relationship between mental health and nutrition. Proper nutrition can be used to prevent and support the treatment of many mental health conditions, especially depression and anxiety. These are two of the most common mental health diagnoses and both are likely to directly impact employee performance. Anxiety disorders are the most common mental illness in the U.S. and affect 40 million adults per year. Beyond depression and anxiety, one of the first steps in managing any mental illness is developing a healthy lifestyle and sound dietary habits.
Our eating and drinking habits, down to a micronutrient level, can impact the occurrence of anxiety and depression. RDs are able to shine light on which foods can help boost mood, which foods should be avoided and which micronutrients can further bolster resilience. They are also able to support employees in developing the eating habits that can set them up for increased resilience and further their success.
Reduce Insurance Related Expenses
Simply put, the poor health of workers is contributing to the rising cost of employer sponsored healthcare. A recent article by PeopleKeep, an industry expert in health reimbursement arrangements noted rising chronic illness and obesity as the third contributing factor to increasing health insurance costs.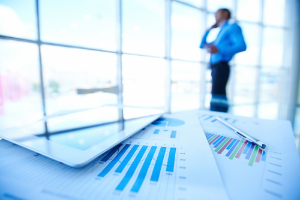 PeopleKeep supports the case for employee health intervention by stating "6 in 10 adults in the U.S. population have a chronic condition, such as asthma, heart disease or diabetes? 4 in 6 have two or more chronic conditions. Chronic illnesses combined with an aging population drives up costs. Additionally, 42% of adults are obese, which leads to additional health conditions with estimated costs of $147-billion annually".
Some of the biggest contributors to elevated health insurance costs are lifestyle related. In the 2017 IFEPB's Workplace Wellness Trends Survey asked over 500 employers to identify the top three conditions that were impacting their healthcare costs. 11.6% pointed to high cholesterol, 13.9% stated depression and mental illness, hypertension was flagged by 27.6% of respondents, heart disease by 28.4% and obesity was noted by 29% of employers to be one of the top three burdens to their healthcare plans. What do all of these conditions have in common? They are lifestyle related and can be mitigated or prevented entirely through the health education and behavior modification support of a Registered Dietitian.
Taking Action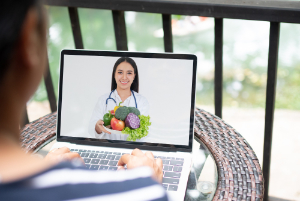 While the financial reasons for seeking the support of an RD are overwhelming, the subjective case is just as compelling. Employees who perceive their employer as caring about their well-being are more productive, have lower turnover rates and contribute to an overall improved office morale. A Registered Dietitian may be closer than you think. Many health insurance programs are now offering enrollees free telephonic counseling with a Registered Dietitian on a limited basis. Premier plans will even have built in incentives to help encourage employees to participate in this service.
Need help connecting your workforce to a Registered Dietitian? SiteWell Solutions offers affordable in-person and virtual dietetics services in a number of states. Our RDs are also able to provide clinics and webinars answering common questions and providing the necessary counsel to prevent and overcome lifestyle related illnesses. SiteWell also specializes in providing workplace wellness challenges designed to provide the education and motivation needed to build healthy habits.
About SiteWell Solutions
SiteWell Solutions is committed to supporting business and organizations with health, wellness and injury prevention services. A healthy workforce is proven to be more engaged, productive and happier. It is our mission to deliver these outcomes to every organization we serve. Our services include onsite and virtual corporate wellness programs, industrial athlete training, injury prevention services, chronic disease management, employee resilience support services and much more. Contact info@sitewellsolutions.com today to find out how we can optimize your organization.
Sources:
"8 reasons health insurance costs continue to rise". 2020. C. Merhar. https://www.peoplekeep.com/blog/8-reasons-health-insurance-costs-continue-to-rise

"Survey: Nutrition Information Abounds, But Many Doubt Food Choices". 2017. Foodinsight.Org. http://www.foodinsight.org/press-releases/survey-nutrition-information-abounds-many-doubt-food-choices.
Taubes, Gary. 2014. "Opinion | Why Nutrition Is So Confusing". Nytimes.Com. https://www.nytimes.com/2014/02/09/opinion/sunday/why-nutrition-is-so-confusing.html?mcubz=3.
"Googlers Eat Way More Than 40,000 Free Meals Per Day And $1 Million Worth Of Chicken Per Month". 2014. A. Shontell. Business Insider. https://www.businessinsider.com/how-much-googlers-eat-2014-8#:~:text=He%20can't%20speak%20for,year%20on%20food%20costs%20alone.
"Healthy Diet". 2015. World Health Organization. http://www.who.int/mediacentre/factsheets/fs394/en/.
"Polarised perceptions of corporate health and wellness – Aetna International survey results". 2020. Aetna International. https://www.aetnainternational.com/en/about-us/explore/future-health/polarised-perceptions.html
"Top 10 health conditions costing employers the most". 2019. N. Otto. Employee Benefit News. https://www.benefitnews.com/slideshow/top-10-health-conditions-costing-employers-the-most
"What You Eat Affects Your Productivity". 2014. R. Friedman.  Harvard Business Review. https://hbr.org/2014/10/what-you-eat-affects-your-productivity
Vuong TD, Wei F, Beverly CJ. Absenteeism due to Functional Limitations Caused by Seven Common Chronic Diseases in US Workers. J Occup Environ Med. 2015;57(7):779-784. doi:10.1097/JOM.0000000000000452