This whirlwind year of 2020 has left many of us feeling isolated and craving reconnection. The good news is, the holidays are upon us and there are many ways you can enjoy quality time while protecting the health and safety of your loved ones. The following Thanksgiving scenarios provide plenty of tips for a happy, healthy holiday.
The Virtual Thanksgiving Gathering
Best for: families who want to ensure maximum safety, have high-risk family members or are geographically separated.
Maximize safety while still making memories with a Virtual Thanksgiving. First, designate one family member as your Virtual Thanksgiving Day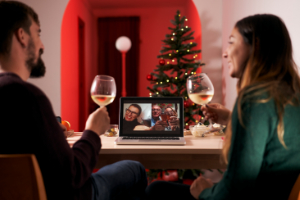 Host. This person will select an online video conferencing platform for the event. An array of options are available including Zoom (free and unlimited on Thanksgiving Day), Duo, Facebook Messenger Rooms and Google Meet. Once the platform has been selected, a digital calendar invite should be sent to all attendees. In the invite, include a clear link to the meeting or step-by-step instructions for accessing the video conferencing app. While chances are even the less tech-savvy members of your family have dabbled in video conferencing this year, simplicity is still key. 
Next, create an experience that will make this virtual gathering one to remember! Kick off the get-together by asking one of the kids to say a prayer of thanks, challenge each household to show off their unique twist on the traditional meal, take turns expressing one thing everybody on the call is grateful for. Keep the celebration going after the meal is over by sharing stories, old photos, asking the kids to show off their latest TikTok dance. End on a high note by planning your next virtual gathering or each sharing a goal they hope to accomplish before the new year. Remember, this unique twist on an old tradition is meant to show how much you truly care about your family's well-being. As always, be sure to thank your host.
The Spatial Awareness Thanksgiving
Best for: families whose members have been able to fully quarantine, families that have no high-risk family members, families currently living in the same household.
When reconnecting with family members in a more traditional setting this Thanksgiving it is important to realize the risk. The highly contagious nature of COVID-19 is remarkable and the well-being of our family members should always be a top priority. That being said, there are a number of ways to increase safety at your gathering.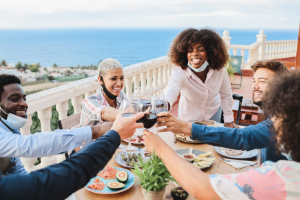 Make sanitization easy. Dress up your handwash area with holiday decor making it a focal point of the room. Make handwash areas easy to access. If possible, direct guests to spare bathrooms to help alleviate crowding. Provide supplementary methods of sanitization such as disinfecting wipes and hand sanitizer in the accessible space. Have some fun with your sanitization stations by using decorations, wrapping sanitizer in festive wrapping paper or deeming the area "Santa's Sanitation Workshop".
Take it outdoors. An outdoor event greatly improves air circulation further protecting your loved ones. Consider tenting or heat lamp rentals dependent on your climate. Maintain a seating arrangement that allows for at least six feet of space between each seat. Open the bottom 12" of any tent structure and implement fans to support ventilation. When hosting larger gatherings, try to keep members of the same household in the same seating area.
Minimize touch points. Designate one person to serve the feast, plate-by-plate, in a separate area. This will eliminate the common touchpoints that occur when passing a dish around the table. Leave the glass wear on the shelf this year and pick up recyclable cups, plates and cutlery for further minimization of touch points.
General Best Practices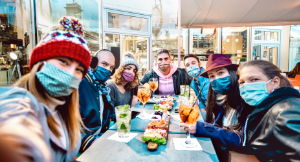 •    Communicate expectations for behaviors before and during your gathering. 
•    Mask up, this is one of the most straightforward methods of protecting yourself and others.
•    Clean and disinfect all areas of use before, during and after the event. 
•    Limit the overall attendance and number of people in any enclosed area.
•    Know that alcohol, in excess, can lead to poor decision making and reduced adherence to safety measures. 
•    Review and adhere to local, state and federal guidelines as well as CDC recommendations.
About SiteWell Solutions
SiteWell Solutions is committed to supporting business and organizations with health, wellness and injury prevention services. A healthy workforce is proven to be more engaged, productive and happier. It is our mission to deliver these outcomes to every organization we serve. Our services include onsite and virtual corporate wellness programs, industrial athlete training, injury prevention services, chronic disease management, employee resilience support services and much more. Contact info@sitewellsolutions.com today to find out how we can optimize your organization.