The Holidays are an especially tough time to lead a healthy lifestyle. Schedules are crazy, socializing revolves around food and high calorie once-a-year treats are everywhere. Save yourself now from the cycle of overeating and "catching up" on fitness later with a game plan for this year's festivities. Learn the behaviors, healthy swaps and recipes that will allow you to enjoy the upcoming holiday without any regret.


Stick To Your Healthy Habits
Stick to (somewhat) of an exercise routine. During the holidays, it may not be realistic to attend your normal spin class, hit the gym at 5PM or maintain your weightlifting regime. However, it is very important that you maintain the habit of working some exercise into your daily routine. Try going for a walk with family after dinner or knocking out a 10 minute HIIT session before starting your day.

Eat from low calorie to high calorie. This healthy eating strategy fills you up on the low calorie, healthier foods and saves you from overdoing it on rich foods. To execute this strategy start with the healthy items like salads, fruits and lean meats before moving to the heavier items like stuffing, casserole and desert.

Be prepared by packing healthy snacks such as almonds and protein bars. A typical holiday may involve being on the go from sunrise to sunset. You may also be planning to travel and have other obstacles that make your day a bit chaotic. The hidden danger in being so busy is that we often forget to eat like we normally would. Not eating for hours on end sends your body into starvation mode and will wreck your willpower and decision making ability by the time you make it to the dinner table. Break this pattern by having a small snack every couple of hours if you will not be able to eat regularly.
Healthy Swaps Save Calories! 
Choose white meat over dark meat. White turkey meat has less fat and about half the calories of dark meat. When loading up your plate, remember what counts as a serving size. One serving of meat is 3 oz, which is about the size of a deck of playing cards.

Pass on white flour rolls in favor of whole wheat rolls. This is an easy switch that will help prevent the severe spikes in blood sugar associated with starchy foods.

Pass on pecan pie for lower calorie, lower sugar pumpkin pie. See the Healthy Pumpkin Pie recipe below for a calorie saving treat!
Thanksgiving Favorites with a Healthy Twist
 
Mashed Garlic Cauliflower
Ingredients: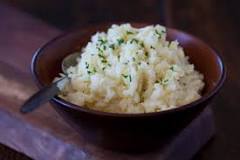 1 head of cauliflower
3 tablespoons milk
1 tablespoon butter
2 tablespoons light sour cream
1/4 teaspoon garlic salt
freshly ground black pepper
snipped chives
Directions:
 
Separate the cauliflower into florets and chop the core finely.

Bring about 1 cup of water to a simmer in a pot, then add the cauliflower. Cover and turn the heat to medium. Cook the cauliflower for 12-15 minutes or until very tender.

Drain and discard all of the water (the drier the cauliflower is, the better) and add the milk, butter, sour cream, salt and pepper and mash with a masher until it looks like "mashed potatoes." Top with chives.
Source: steamykitchen.com
 
Seasoned Smashed Sweet Potatoes
Ingredients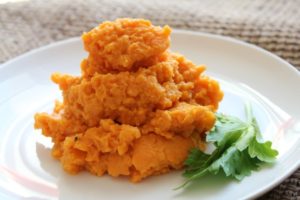 2 large sweet potatoes, peeled and cubed
2 tablespoons unsalted butter
1/2 teaspoon kosher salt
1 chipotle chile pepper in adobo sauce, chopped
1 teaspoon adobo sauce, from the pepper can
 
Directions
 
Put the sweet potatoes in a steamer basket and put the steamer in a large pot of simmering water that is 1 inch from the bottom of the basket. Cover and steam over medium-high heat for 20 minutes, or until the sweet potatoes are fork-tender.

Remove the steamer basket, pour the water out of the pot and dump the sweet potatoes into the pot. Add the butter and salt and mash with a potato masher. Add the chile and sauce and continue mashing to combine. Serve immediately.
Source: foodnetwork.com
Healthy Pumpkin Pie
Ingredients


3/4 c granulated sugar
1/2 t salt
1 t ground cinnamon
1/2 t ground ginger
1/4 t ground cloves
2 large eggs
15 oz pumpkin purée
1 c Stonyfield Organic Low Fat Vanilla Yogurt
1 unbaked 9-inch pie shell
 
Directions
 
Preheat oven to 425°.

Combine sugar, cinnamon, salt, ginger and cloves in small bowl.

Beat eggs lightly in large bowl.

Stir in pumpkin and sugar-spice mixture.

Gradually stir in yogurt.

Pour into pie shell.

Bake for 15 minutes.

R

educe temperature to 350° and bake for 40-50 minutes or until knife inserted near center comes out clean.

Cool on wire rack for 2 hours.
Source: stonyfield.com
About SiteWell Solutions
SiteWell Solutions is committed to supporting business and organizations with health, wellness and injury prevention services. A healthy workforce is proven to be more engaged, productive and happier. It is our mission to deliver these outcomes to every organization we serve. Our services include onsite and virtual corporate wellness programs, industrial athlete training, injury prevention services, chronic disease management, employee resilience support services and much more. Contact info@sitewellsolutions.com today to find out how we can optimize your organization.