The month of March marks National Nutrition Month in the U.S. This is a great opportunity to reflect and expand on our nutrition-oriented self-care. SiteWell Solutions has your healthy eating goals in mind and understands just how challenging these habits can be for busy professionals. This is why we have developed the 4-Week Nutrition Challenge. This challenge provides a daily prompt designed to help you eat healthier, build new habits and discover new resources for long term success.

Click here to download the 4-Week Nutrition Challenge. For additional support and corporate wellness challenge management, contact info@sitewellsolutions.com.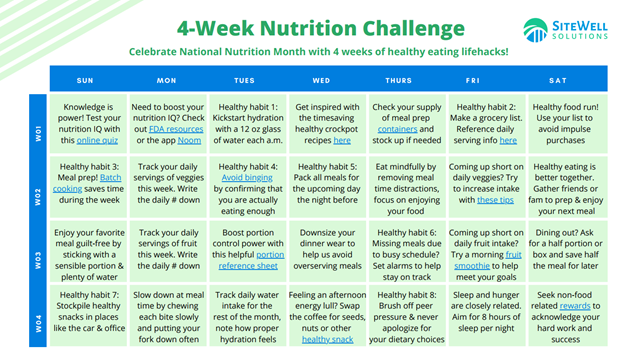 About SiteWell Solutions
SiteWell Solutions is committed to supporting business and organizations with health, wellness and injury prevention services. A healthy workforce is proven to be more engaged, productive and happier. It is our mission to deliver these outcomes to every organization we serve. Our services include onsite and virtual corporate wellness programs, industrial athlete training, injury prevention services, chronic disease management, employee resilience support services and much more. Contact info@sitewellsolutions.com today to find out how we can optimize your organization.