Healthy aging is an art. Aging "well" and maintaining our quality of life in later years requires living with intention and actively striving to counter the impacts of time. We are all entitled to walk our own path in life and handle the golden years and beyond as we wish. Those who successfully make the latter parts of their journey vibrant and active have followed the following 4 pillars of healthy aging.
I.    Prioritize Prevention
Stay healthy by engaging in routine, preventive health care. By being proactive about routine screenings, doctor visits and generally following doctor's orders we are able to ensure quality of life over the long run. Navigating the necessary medical milestones can be tricky, that is why SiteWell Solutions has developed healthy aging road maps for men and women. We cannot thrive without maintaining a baseline of health.
II.    Stay Physically Active
Fitness is necessary for quality of life and critical for injury prevention. The standard statistics regarding times' impact on our physiology can be frightening. After age 30, our overall muscle mass begins to decrease as much as 3% to 5% per decade. Decreased muscle mass contributes to loss of joint stability, balance and overall strength. These factors all contribute to fall-related injuries which are more prevalent in older adults. Research from the Irish Longitudinal Study on Ageing and similar studies determined that for women the prevalence of falls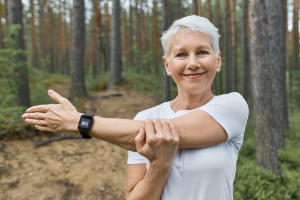 increases for women age 40 by 9%. This trend continues with women ages 55 – 59 being 30% more likely to suffer fall related injuries. With age fitness may seem less relevant or even intimidating. However, this is a critical time to find forms of exercise that are sustainable. Get moving and stay moving to boost quality of life.
III.    Seek Out Adventure
Be adventurous – new experiences stimulate our brain and promote neuroplasticity. Neuroplasticity the ability of the brain to form and reorganize synaptic connections. Synaptic connections transport neurons in the brain and essentially keep us mentally "firing on all cylinders". Declines in neuroplasticity are reflected in declining memory and ability to learn new things. New experiences, challenges and adventure are key for maintaining neuroplasticity. Adventure does not have to be sky diving or visiting a new country - though it could be! Reading new books, learning a classical dance, journaling or tackling a challenging puzzle are all examples of activities that incite neuroplasticity. Our brains feed on novelty and healthy challenges; keep them fed by actively seeking out these experiences.
IV.    Social Connectivity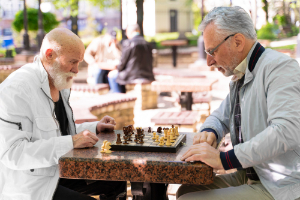 Research shows that staying socially connected supports mental health and emotional well-being. Regular interactions with a healthy support network are proven to boost overall health. Again, this demands an active and intentional approach to life. Reaching out, calling old friends, making plans, joining social groups – these things may not come easy but are critical for longevity. Boost the previously mentioned pillars of healthy aging by making them social. Why not share your preventive health milestones with a close friend or family members? You could also join a group fitness class or small group fitness training program to increase social exposure. Finally, who doesn't enjoy trying a new adventure with good company?
It is the goal of SiteWell Solutions to help people move and feel their best at every stage of life. For more information about our onsite and virtual health, wellness and injury prevention services contact info@sitewellsolutions.com.
About SiteWell Solutions
SiteWell Solutions is committed to supporting business and organizations with health, wellness and injury prevention services. A healthy workforce is proven to be more engaged, productive and happier. It is our mission to deliver these outcomes to every organization we serve. Our services include onsite and virtual corporate wellness programs, industrial athlete training, injury prevention services, chronic disease management, employee resilience support services and much more. Contact info@sitewellsolutions.com today to find out how we can optimize your organization.